Environmentalists objected that arid Beijing was not snowy enough to hold the 2022 Winter Olympic Games. Human rights campaigners said it was not free enough, especially after a monthlong sweep of hundreds of rights lawyers. On Friday, the International Olympic Committee awarded the Games to Beijing anyway.
Now some people are drawing attention to what may be a third early problem, one that could lead China into a tangle with Disney or at least attract ridicule. One of the official songs of the Games, "The Snow and Ice Dance," they note, is strikingly similar to "Let It Go," the wildly popular ballad sung by Elsa in the Disney animated movie "Frozen."
One of the official songs of the Games is "The Snow and Ice Dance," which some have compared to "Let It Go," from the Disney film "Frozen."
On the YouTube page for "The Snow and Ice Dance," one of 10 official songs of the Games, many of the comments were in Chinese, although it was not clear how many of those came from the mainland, where an official ban on the site makes access difficult. Most commenters struck a surprised or sarcastic note:
Wrote Zeta Fera: "I nearly sang 'Let it Go!' "
"Rubbish country," wrote leckylecky. "Only understands how to copy copy copy."
"Their shame knows no bounds," wrote Ben Wang.
Caijing Online, the website of a prominent Chinese business magazine, also noted the similarities, and it offered a technical analysis that went beyond the melodic similarities. Among the main points: Both songs employed a piano as the major instrument, have similar prelude chords, an eight-beat introduction, and they run at almost exactly the same tempo.
That article also inspired online comments. A reader named Tujiang Elapse thought parts of the song were similar, but not all, whereas another reader, Moxin, lamented that China did not lack creative people, so why had it copied the song?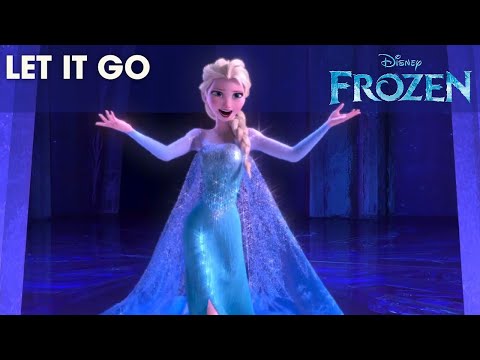 A clip from the Disney film "Frozen" in which Elsa sings "Let It Go."
Asked to comment, a spokeswoman for the Beijing Games' organizing committee, Xiao Junfeng, requested that questions be submitted by fax, saying that she could not comment without authorization, which she did not have. She did not immediately respond to the faxed questions.
The first of the 10 songs presented on the organizing committee's website is one performed by the actor Jackie Chan, "Waking Up the Winter" — perhaps also a good title in a city that saw barely any snow last year.
Second is "Come and Ski on the Great Wall," performed by the male duo Lu Han and Tao Zhe.
"The Snow and Ice Dance" is third, sung by the male-female duo Sun Nan and Tan Jing.
Temperatures in northern China typically drop below freezing in the winter, but the region is very dry, meaning that much of the snow and ice at the Games will almost certainly have to be artificially generated.